AT THE GATES arbeiten am neuen Album und haben ein Bandmitglied verloren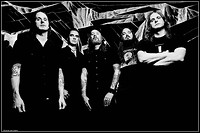 Während die vier verbliebenden Bandmitglieder an den Songs für das neue Album schreiben und auch schon drei fertiggestellt haben, verkündet Anders Björler den Ausstieg aus der Band:

"Just a quick note to let everybody know that I am leaving At The Gates permanently. The passion is just gone. There might be a more lengthy statement in the future, but at the moment I feel no need to explain further.

This is a personal decision, and it has 100% to do with the music side of things. The reunion in 2008, and the subsequent tours, as well as the comeback album 'At War With Reality', really helped revisiting our friendship, and it brought us together in a way I will always remember and cherish.

I would also like to thank all the people that supported us throughout the reunion shows as well as the 'At War With Reality' album. Thanks a lot!"

Der Rest der Band plant Anfang 2018 das neue Album aufzunehmen und sich vielleicht auch wieder einen zweiten Gitarristen zu suchen.
Bitte logge dich ein, um hier direkt Kommentare abgeben zu können!