Various Artists - Bikers Paradise (Boxset)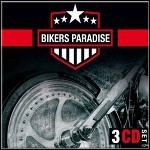 erschienen am
27.04.2007
bei
Politur
dauert
183:43 min
1. CD1- The Hard Ride: Sir Edward - Man With A Harley
2. Motörhead - Ace Of Spades
3. Twisted Sister - I Wanna Rock
4. Molly Hatchet - Flirtin' With Desaster
5. Quiet Riot - Cum On Feel The Noize
6. Warrant - We will Rock You
7. ZZ Top - Viva Las Vegas
8. Dio - Rock'n Roll Children
9. Ian Gillan Band - Dirty Dog
10. Billy Squier - The Stroke
11. Saxon - Wheels Of Steel
12. Vixen - Cryin'
13. Girlschool - Race With The Devil
14. The Tom Robinson Band - 2-4-6-8 Motorway
15. Diesel Dahl & Friends feat. Jörn Lande - Harley-Davidson 2003
16. CD2- The Classics: Bachman-Turner Overdrive - You Ain't Seen Nothing Yet
17. Ram Jam - Black Betty
18. Status Quo - Rockin' All Over The World
19. Uriah Heep - Easy Livin'
20. Free - All Right Now
21. Black Sabbath - Paranoid
22. Rainbow - Since You've Been Gone
23. Deep Purple - Smoke On The Water (live)
24. Ufo - Doctor Doctor
25. Canned Heat - On The Road Aagin
26. The Allman Brothers Band - Jessica
27. Lynyrd Skynyrd - Sweet Home Alabama
28. Journey - Wheel In The Sky
29. Ugly Kid Joe - Cats In The Cradle
30. Billy Idol - Rebel Yell
31. CD3- The Soft Side: April Wine - Just Between Y
Hach, welch feines Teil ich hier doch in der Hand halte. "Bikers Paradise", ein 3-CD-Set in einer Art Blister und inklusive einer schwarzen flotten Lenkertasche aus Leder. Doch nicht nur die Aufmachung hat es in sich, sondern auch der Inhalt.

CD1 ("The Hard Ride – The Best Of Heavy Rock"). Urgesteine wie MOTÖRHEAD, TWISTED SISTER, QUIET RIOT, ZZ TOP, SAXON, VIXEN oder DIO geben sich hier die Klinke in die Hand. Und die Songauswahl der Vertretenden ist perfekt. Ob "Ace Of Spades" (MOTÖRHEAD), "I Wanna Rock" (TWISTED SISTER), "Rock'n'Roll Cildren" (DIO) oder "Wheels of Steel" (SAXON)…, was will der Rocker mehr?

CD2 ("The Soft Side – The Best Of Rock Ballads"). Auch hier wurde eine Auswahl getroffen, die, sowohl Nebenbei-Rock-Hörern, sowie Rockfans, eine Träne der Erinnerung entlocken. "Lady In Black" (URIAH HEEP), "Free Bird" (LYNYRD SKYNYRD) oder "Every Rose Has It's Thorn" (POISON) …, hier werden die schönsten Erinnerungen wach.

CD3 ("The Classics – The Finest In Rock History"). Hier ist der Name Programm. Dies ist mein persönliches Highlight dieser Ausgabe. Diese CD kann man überall laufen lassen. Sei es zu Familienfesten, Lagerfeuer-Parties, Geburtstagen oder auch nur beim Renovieren des Schlafzimmers (wie ich es tat)… genial. Man wird quasi gezwungen hier mitzusingen, denn man kennt wirklich jeden Song. Oder kennt Ihr etwa nicht ""Rockin' All Over The World" (STATUS QUO), "Easy Livin" (URIAH HEEP), "You Ain't Seen Nothing Yet" (BACHMAN-TURNER OVERDRIVE) oder "Paranoid" (BLACK SABBATH)?

Das nenne ich mal eine gelungene Zusammenstellung von Klassikern und sollte wirklich in jedem Regal eines Rockers/Metallers stehen. Aber es ist eine limitierte Edition, also solltet Ihr Euch ranhalten. Dieses Set wird einen Ehrenplatz bei mir bekommen und meine Frau freut sich, dass aus meinen Lautsprechern nicht nur Geballer ertönt. Daumen so hoch, wie's geht!