Testament - The Spitfire Collection (Compilation)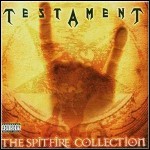 1. The New Order (live)
2. Souls Of Black (live)
3. Practice What You Preach (live)
4. Hatreds Rise
5. The Burning Times
6. John Doe
7. Careful What You Wish For
8. Down For Life
9. Riding The Snake
10. Over The Wall
11. The Preacher
12. Into The Pit (live)
13. Trial By Fire (live)
14. Disciples Of The Watch (live)
"The Spitfire Collection" ist ein weiteres Paradebeispiel dafür, dass Label Compilations meistens für den Eimer sind. Sechs Livetracks (drei von "Live At The Fillmore", drei von "Live In London"), zwei Songs von der Klassiker Platte "First Strike Still Deadly" sowie jeweils drei Stücke der spätneunziger Alben "Demonic" und "The Gathering" – fertig ist die Laube. Damit bietet Spitfire zwar einen halbwegs repräsentativen Überblick über
TESTAMENTs Schaffen auf diesem Label, aber mal ehrlich: wen interessiert das?
Die Politik, aus nur zwei Studioalben und ner Menge Schnickschnack eine Best Of zu basteln, ist schon vom Prinzip her fragwürdig, aber wenn man bedenkt, wie viele Klassiker (vornehmlich aus den 80ern) hier unter den Tisch fallen mussten, hört's wirklich ganz auf. Als Soundtrack für das nächste Spitfire Sommerfest hat diese CD ja durchaus ihre Berechtigung, für alle Hörer da draußen – egal ob Fans oder Neueinsteiger – ist sie jedoch zu 100 % verzichtbar.